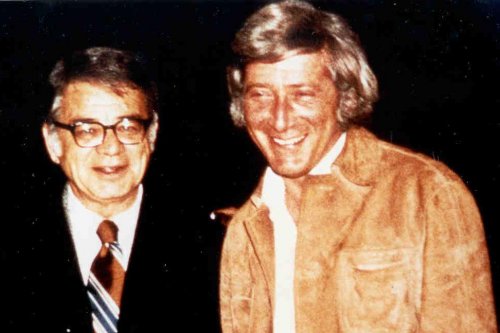 My friend Hans is a huge fan of
Jerry Goldsmith
(he wrote his thesis on Goldsmith's use of counterpoint). I like to kid him that Goldsmith was just another hack, trying to do a job, sometimes pointing out the one chase scene in
Basic Instinct
where the underscore is just not really happening (the only mediocre/bad cue in the film). But DAMN! the guy is REALLY the stuff! In 1965-66 he was batting amazingly high. In the last few days, besides V
on Ryan's Express
(1965), which I write about
a post or two ago
, I have seen
Morituri
(1965) and
The Blue Max
(1966), which I first saw in 1966 at the
Coolidge Corner Theatre
.
It seems that, in these two films, all the elements, the composition, orchestrating (
Arthur Morton
, who is in the photo with Goldsmith, gets the orchestration credit on
Morituri
, but no one does on
The Blue Max
), recording and conducting (
Lionel Newman
, the department head's brother, on
Morituri
and Goldsmith on
The Blue Max
) work to meld the musical element with the dramatic.
Morituri
shows its most original color in the main titles and opening sequences (when dodging sounding Hollywood "oriental") and settles down to good action and suspense.
The Blue Max
score is exhilarating, the whole tone harmonic steps and suspensions feeling like the suspense of gravity's will being broken and lifting off, the trilling violins a ululation of excitement which brings alive the more static truth of planes flying in the sky.